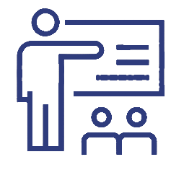 Leadership Training
In addition to my successful coaching practice, I am also a trainer/facilitator who has worked with groups as small as two to as large as one hundred and fifty. I am skilled in both face-to-face and online trainings around the U.S. and internationally.
I have trained every level of an organization from individual contributors to the C-Suite. I am certified and have extensive training experience in the following areas:
Leadership skills
Diversity & inclusion
Change management
Influencing
Innovation
Coaching skills for managers
Presentation skills
Business writing
In addition, I am one of the NeuroLeadership Institute's (NLI) certified trainers. Multiple times a year and around the country, I train and lead people through the certification process in the Results Coaching methodology.
If you are interested in bringing training to your organization or learning more about the training companies I work with, please contact me or click on my clients' logos below.