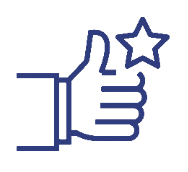 Testimonials
Pete delivers the goods. He has a strong data driven approach, is insightful and consistently adds value. I recommend Pete without hesitation.
– VP/GENERAL MANAGER OF A FORTUNE 200 TECH COMPANY
Pete immediately helped me lay out the goals that I wanted to achieve and the behaviors I wanted to change. He then supportively pushed me to write down the steps that I would take to make progress towards my goals and hold myself to take those actions on a timeline… my peers, and I can see tremendous improvements in my ability to perform as a leader in the organization. If given the opportunity, I would continue to work with him forever!
– SENIOR DIRECTOR OF A FORTUNE 100 ELECTRONICS COMPANY
Pete is an empathetic and action oriented coach who is a pleasure to work with. He is a committed, focused listener and together we created new and innovative ways to approach various topics. I gained a sense of freedom and clarity.
– VICE PRESIDENT FOR A FORTUNE 500 CLOTHING COMPANY
Pete brings a wealth of experience from his work in the mental health field and is easily translating that experience into an insightful and empathic coaching style. It was readily apparent from day one that helping and developing others is in his DNA and coaching is a natural extension of that. I would highly recommend Pete as a coach.
– DIRECTOR OF HR FOR A CONSTRUCTION COMPANY 
Pete is an outstanding professional who brings a deep understanding of human nature and a profound appreciation and respect for each person's humanity and evolution as an individual. Pete is an excellent coach who can help each person unlock their creative potential and become their best selves.
– Chief Financial Officer of a Non-Profit
Pete has been an extremely important part of my successful transition to the Bay Area. I was faced with multiple professional opportunities – and challenges – during my move and Pete helped navigate me to a challenging new position and career. I could not give him a higher recommendation.
– Non-profit Director of Operations
Pete is highly intelligent, compassionate, and action oriented. He is one of the best coaches I have ever worked with. He has been instrumental in… illuminating strengths and identifying opportunities to improve. ​
– Chemist at a Bio-Tech Company
Peter has been instrumental in helping me on my self reflection. As you design your path, he helps break down the self barriers we create to help you get unstuck and reach the next level. And he does so with a supportive, non-threatening, non-judgmental demeanor. His exercises and checking ins have helped foster accountability and focus for my personal goals. I look forward to future sessions and my next breakthroughs! Thanks Pete!
– Project Manager at a Fortune 500 IT Company
Pete has been incredibly helpful and integral in my process of reinventing myself, both personally and professionally, no easy task. Every facet of my life is changing and to have him as a sounding board and trusted advisor during this both exciting and difficult period of my life has been a blessing. I recommend Pete for anyone who is going through any life changing situation(s) or simply as another set of eyes and ears on your life for a new and different perspective. I highly recommend Pete's nonjudgemental and sound insight.
– Sales and Marketing Consultant
Pete has been my career coach for six months and has been a huge help. He helped me keep a level head during some stressful re-organization at my company and always has good advice whether it be to work through some challenges at work or to keep me focussed on my long-term career. Having independent, trustworthy counsel looking out for your best career interests is awesome!
– VP at a Bio-Tech Company