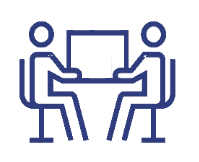 Executive Coaching
I am a board-certified executive coach who has been trained in both Co-Active Coaching from the Coaches Training Institute (CTI) and Brain-Based Results Coaching from the NeuroLeadership Institute (NLI). To learn more about either methodology, click on the logos at the bottom of the page.
I've worked with the C-Suite, SVPs, VPs, directors, and managers from start-ups to Fortune 50 companies in various fields, including:
Tech
Biotech
Gaming
Apparel
Finance
Marketing
Healthcare
Construction
Higher Education
Utilizing my understanding of neuroscience, behavior change, and current research, I work closely with leaders to identify key actionable goals, manage engagement, and craft a strategic plan for how to capitalize on their strengths while developing needed skills.
My areas of expertise include:
Executive presence
Emotional intelligence
Creating vision
Balance between connection and results
Public speaking skills
Building strong teams
Building on a foundation of growth mindset, my approach is structured, highly organized, task-oriented, and outcome-based. I work with leaders to generate measurable results in a short period of time.